Discussion Starter
•
#1
•
Hello, I thought I post some of my art here and keep a nice documentation of my WIPs (work in progresses) and just get some general feedback from the equestrain community!
Here is my most recent commission - as well as sharing the title as being my first international commission. This little horse is named Denver and is owned by a lovely lady in Norway.
I'm in the process of making a cute little WIP movie, I took lots of pictures while in the process of making this one. It took approx. 9-10 hours and I working on layering my shading more that I usually do to give the image more mid-tone value. I have to say too, this was probably my most difficult commission to date - the reference image I was provided was smaller than this image (around 500px wide) and had a rider and full tack, so the midsection and much of the face was imagined by me. But! I'm very satisfied with the end result and so was the customer.
Now with being home for the winter break and grounded with a broken ankle, I've taken on the challange of a digital piece. Never attempted one on this scale before, so it will be an interesting learning process. Here are two WIPs of my silly little unicorn. Haha.
First, just the sketch - 20-30mins?
And the blocking in stages, it's been quiet a challange because I, sadly, don't have a tablet so it's slow going mouse work. Thank goodness for large resolution that can be scaled down to hide shakey hand work! Haha!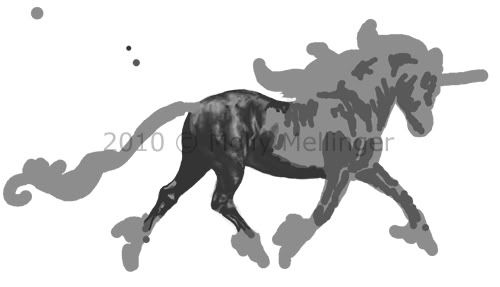 Well, that's all for now! I'll update as new things come up. Also, if you're interested, here's my deviantart page!
Jag6201 on deviantART
THANKS!
Molly aka Jag6201