Discussion Starter
·
#1
·
So, today for the first time, I got on Cinny yay. He did well, but...it's clear that I am going to have a bit of an issue with my saddle. It's a nice hunt seat that is well broken in that I just LOVE. When I first put it on it seemed to fit okay and my friend/trainer said it looked right to her. However.....it slid back about 3 to 4 inches during my 1/2 hour ride at a walk.
So the first thing that comes to mind is...a breast collar. BUT, about 5 years ago I lent the saddle to a friends daughter who thought it was cool to hang it in their tack room by one of the Front D's....until the leather attaching that D to the saddle BROKE. Had I known she stored my hunt seat this way, I would have....well, I'm sure you could guess what I would have done, back to subject. Regardless, I can not attach a breast collar to it and well, it will be costly to fix. For some reason I seem to remember some people who had breast collars that attached to the billets, am I remembering wrong?
I am also using a "humane" girth, popular with saddle seat riders.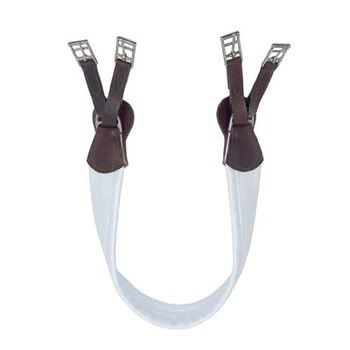 Do you think this could be causing it since it gives with the horses movement? Do you think changing to a normal girth will fix the sliding issue?
I am starting him out with a basic dressage trainer but I do want to go hunter or jumper, whichever he takes to, and I know that I have to fix that issue of the saddle sliding for that.
Thank you so much for any advice.