Discussion Starter
•
#1
•
Today at 7:30 am I got into my lunch room at school to eat breakfast and I checked my phone (Normally I would have left it in my locker but today for some reason I left it in my pocket and checked it when I sat down to eat.
I noticed I had 2 missed calls from my dad, so I called him back and I hear "Dani, Minnie is down". I couldn't believe it. We have been nursing my dad's beloved Belgian mare Minnie back to health since this summer. And my mom called me into school sick today, I rushed to the barn as fast as I could. I got there and she was flat on her side and my dad was sitting there almost in tears. She was still alive.
So we called the vet right away, and guess what we got "Sorry, we can't help you today" from literally 4 different vets. our last hope was a lady that is about an hour away from us. She said she could do it, but it would take about 4 or 5 hours to get out to the barn. We said "Ok, atleast you can get out here"
We didn't know what was wrong with her, so we stayed outside with her in 30 degree F weather and had her covered up gave her food and water. We almost had her up a few times, but she just couldn't do it.
The vet got there at 3:00 and she looked at Minnie, she was at this point Hypothermic (Even though she was eating and had blankets and everything on her) and the vet thinks her liver and kidneys were shutting down.
The vet said, we can try to fix her, or humanly put her down. (She said either way the outcome would be the same, Minnie wasn't doing well...)
So Minnie was put down at 3:20 this afternoon. I have been crying since.
Minnies story is long and sad, we were told when we got her that she was 16, found out today she was actually around 30.
She had been worked almost to death, and we were finally starting to get weight back on her and getting her happy, but today was her time to go.
This is Minnie about 2 months after the guy we bought her from had her, she was actually a lot skinnier, but the angle makes her look like she had more weight on her...Sadly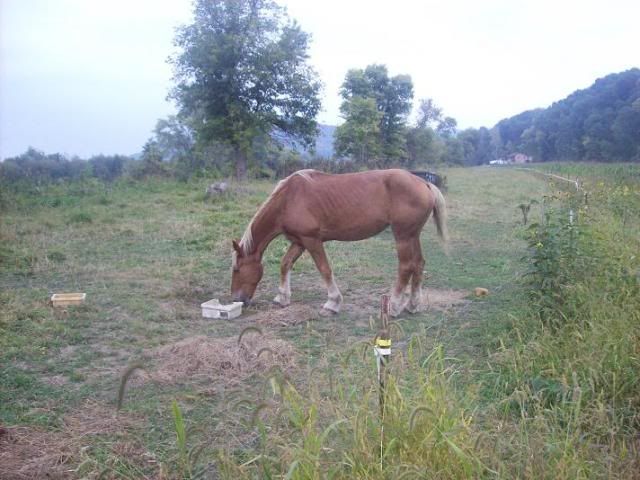 (I will put the picture of her and my dad in a link so if people don't want to look) It isn't gruesome or anything. (The rub mark is from a couple weeks ago she rubbed the hair off trying to get hay out of the feeder.)
http://i96.photobucket.com/albums/l198/danikami/RIPmissminnie1-15-2010008.jpg