Discussion Starter
·
#1
·
:think:

I was going for a head banging emoticon, but this will have to do.

Is there ANY difference between furizone, furazone and nitrofurazone??? Is it all the same dang product with different spelling??? Is it SAFE?

I just bought some and used it on Zierra. At the moment, I only have Corona, Fiebings Aloe Vera and Blu-Kote. None of these prevent proud flesh. I went to the store and I passed over Wonder Dust after hearing many websites claim it actually PROMOTES proud flesh. So I grabbed nitrofurazone ointment (0.2% in a water-soluble base). I slathered her leg with that and re-bandaged it.

AM I WRONG? I am SO frustrated. What on EARTH are we supposed to use? Now I read that nitrofurazone causes cancer and it also destroys good flesh and shouldn't be used unless I SEE proud flesh. Someone else said it PROMOTES proud flesh.

*sobs*

I DON'T UNDERSTAND. Does ANYTHING prevent proud flesh? Or do we just wait for it to come and keep cutting/scrapping it back as it does??? HELP. These things, literally, "do not happen" to me. I dealt with 50 stitches into the chest of Zierra's dam once, about seven years ago, and be damned if I've dealt with any serious cuts since.

Any input would be wonderful, because I am panicking. I do not think the wound looks like it should. Am I wrong? Am I right? What do I need to be doing?

DAY ONE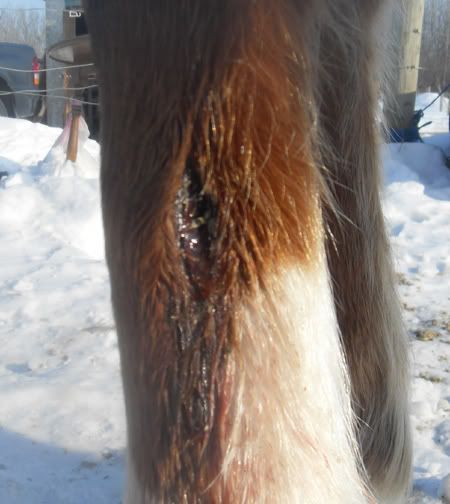 DAY TWO (after washing, putting Corona Ointment on and vet wrapping)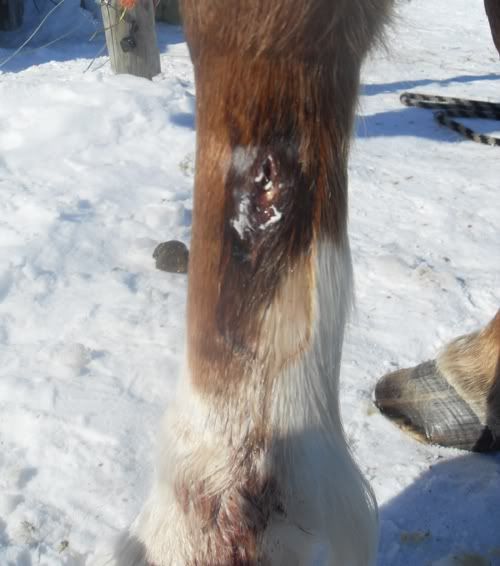 DAY THREE (repeat procedure from day two)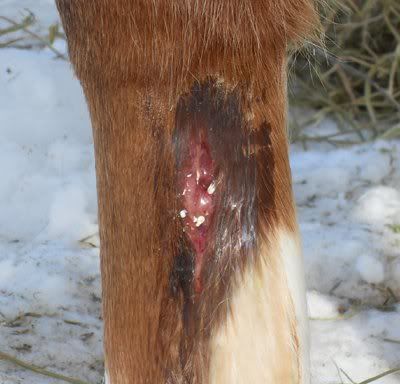 DAY FOUR (after taking these pics, I applied the nitrofurazone ointment and re-bandaged her)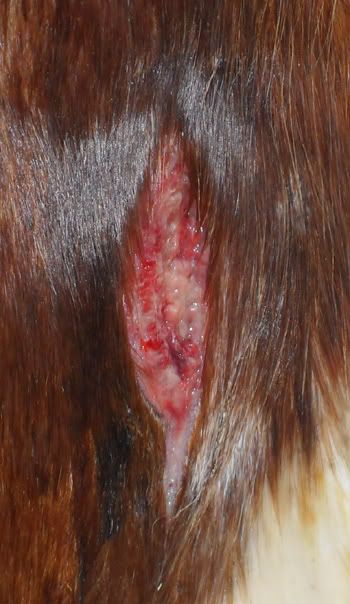 Should I leave her bandaged?
Un-bandaged?
Nitrofurazone?
Another ointment?

Two trainers/coaches now have told me to use nitrofurazone, but one told me to stop bandaging while the other said keep bandaging.

SHE IS NOT IN A BARN. She is in an isolated round pen. I do not have a barn.