Bubba, thank you for your time invested! This is one of those threads I wish I could print and keep in my back pocket!
Might I add a combo bit to your list: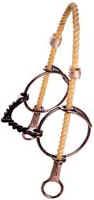 Reinsman "Hank" bit.
Training bit that works off a horse's nose by using the rose buds on the rope to contact the nerves. Teaches a horse to head-set, flex, turn over his hocks and stop without hurting the bars of his mouth. As you pick up on the reins, light pressure goes to the mouthpiece keeping your horse "light in the mouth". Great for tuning up a mature horse. (Copied from Reinsman website.)
I love this combo bit for the horse that "usually" does fine in a hackamore, but every once in a while needs a lil more. I have also found that on a horse that lacks breaks, this is a great tool for collection and one rein stops.