Owned by a Retired Arabian
Discussion Starter
·
#1
·
Warning horse butt images
Highlander is a purebred Arabian gelding who is turning 30 this month. Since September, he has been dealing with itchy butt cheeks that won't go away. He lives 6 hours from me at a stable where I use to live. The stable owner and I are at a loss of what to try next. The vet is out of ideas.
Highlander facts:
Turns 30 years old this month
Rescued him May 2018 with body condition of 3, prior was used as an endurance horse
Daily turned out into dry pasture with horse friend, large box stall at night
Fed twice daily with the following mixture soaked in a 5-gallon bucket: 1 lb. Purina Equine Senior and 1 lb. alfalfa pellets with 60g SmartFlex Senior Pellets (only once a day with the pellets)
Timeline
July 17 – worms found in boy's pasture, both treated with Ivermectin. Both were Pulte wormed in May with Quest.
September 29 - noticing he was swishing his tail a great deal and thought he needed his sheath cleaned. It's not his tail that is being rubbed but under his tail and the sides of the cheeks.
October 10 – fall vet visit. During the regular vet visit on October 10, the vet saw nothing wrong with him, got his fall shots as normal. Forgot to do the sheath cleaning.
October 25 - dewormed twice by this date, no worms seen within scat of either horse
November 19 - He got his sheath cleaned on. His sheath wasn't dirty. The vet did blood work and found his Equine Endogenous ACTH2 levels were 522 levels to be extremely high. Scrapped for mange but came back clean.
November 23 – started on Prascend for cushings
December 5 – still itchy and trying some topical treatments. Vet said it could take a few weeks for the Cushing medication to kick in and we should be seeing a reduction of itchiness. By this point, the stable owner has tried shampoo, antifungals, antibiotics, triple antibiotic ointment, gall salve and put him on Equishine. He also has gotten 3 treatments 10 days apart of dewormer. See complete list below.
December 28 – itch seems to be 20% better
January 19 – butt is looking better but still itching. Did blood work to see if his number has dropped.
January 29 – still itching trying diaper rash ointment on, vet and stable owner are running out of ideas
February 4 – itching still there and at a point in which he can't be left inside his stall in case he rubs his butt raw. See video
February 10 – trying new anti-itch foot cream to
Throughout this entire time, Highlander has been acting normal. Eating and drinking normally and being his energetic and happy self.
Tried the following medications, ointments and treatments
Monistat cream
Athletes Foot Cream
Desi Cream
Antibiotics
Benadryl
Steroid
Mite treatment
Lime sulfur dip for horses
First photo from January
Second photos from today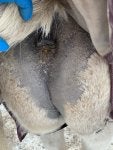 sorry only have video from earlier dates