Discussion Starter
·
#1
·
Hello
I wanted to share some pictures with the babies. Well they are not really babies :lol: but they are acting like that.
It was the first bath that I gave Danut this year by myself. He had some baths before but I wasn't there to take the pictures
. He was really sweet until the end of the bath. He stood very patiently at it. But at the end he decided that he doesn't like his face being washed so he broke a lead rope. I really don't like those lead ropes, they are not of good quality. Normally he knows to give to pressure but I guess that he realized that the lead rope will break when he pulls. It's not the first time. I want to make him a rope halter and tie him with it. He must learn to give to pressure again.
Naomi on the other hand was really sweet as always. She loves baths and hate the warm weather.
Naomi being washed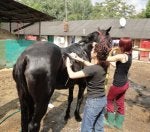 Danut being washed
I know that the place isn't good for a bath. We don't have a bath stall or something like this. We have a place with concrete near the water but without a tie post.
Naomi getting an haircut. She doesn't stand to have the mane pulled and I think that it's no need for it. She doesn't need to be really beautiful because no one will see her :lol:. She's a pasture ornament.
The final result.
I wanted to make some photos with him but he has very hungry after the bath.
So he didn't want to stay with his head up. Silly boy.