Discussion Starter
•
#1
•
Whalin (whale-in) is a Appendix Quarter Horse..I got him for Christmas (I had no idea my mom got him for 2 months!)
-screams like a little girl- Unfortantly no pictures of him yet, as I am forgetfull and forgot to bring the camera to the barn. He is 4 years old (late foal) and was just broke this year. Whalin has excellent ground manners and temperament. I couldn't ask for more! My family got him for a great price, after years of searching, man ol' man. xD
The only thing am worried about it he is spur broke and am not expericed with that! Hopefully I'll "master" it soon..lol
Whalin has face markings closly resembling Barbaro...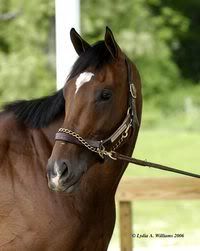 ((Note this horse piture above is not Whalin, it is Barbaro, hope there is no confusion)
This is not me riding him, this is his previous owner. In this video he looks short and stocky, but he is more slender and tall in person.
Critiques or thoughts on movement and anything else?
I'll get pitures hopefully by tommorow! :lol: