Hi all. I'm pretty new around here, but I frequent other forums with the same handle, so some of you might know me. I'm going to share the same thread that I have on the other sites so you guys can get to know me and some of my horses a bit better.
I bred a horse for the first time in almost 10 years this year and I'm very excited about this foal. This was my first experience with AI and it was eye opening, for sure!
The mare I bred is named
Spot Ya Dealing Dirty
(aka Oakley) and was bred to the stallion
Gentlemen Send Roses
(aka Gus)
(Click the links to see their pedigrees.)
They are both Paint horses. Both are tobianos according to the APHA, but are actually toveros genetically. Gus is tested negative for HERDA, OLWS, GBED, and EVA. My mare has not been tested for any of those things, but I am not worried, since Gus is negative. Gus is also homozygous for tobiano, so we are guaranteed a tobiano foal, and could possibly have a homozygous tobiano foal. We are hoping for a filly to keep and show. If we have a colt, it will be for sale, but we are still planning on training and showing it until it sells.
I don't have too many photos of my mare Oakley uploaded right now. This will have to do for now: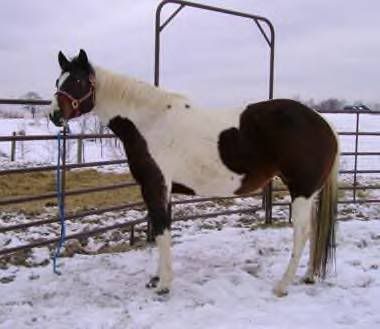 See his Website
http://harnishhorses.com/gus.htm
So far our main issue has been Oakley's hormones. She has been tested twice, and both times were low, so she had to stay on Regumate. Oakley just had her 60 day ultrasound and is still pregnant! Yay! But, she is also in heat, so the vet is sure that she is still not producing enough of the hormone on her own and will likely have to stay on the Regumate for a little while longer. We drew blood and will probably get the results back in a few days.
Anyway, just wanted to share. Thanks for taking a look!