Discussion Starter
·
#1
·
Ok, so I can tell im going to get screamed at here.. :?:shock: *braces self for it*
Im getting in to showing a lot more at the moment, and lots of / most 'hackies' ride in double bridles:
But my horse would be so ****ed if I had two bits in her mouth.. (she has a smallish mouth) and i'd also feel bad.
Ok.. this is where your all going to kill me :lol: I like the look of horses with double bridles. And i think some judges do to. So im thinking rather than having a double bridle on my horse, riding in a pelham.
attached with this curb and leather guard: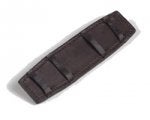 This is the one I was looking at using for this weekend. Of course id ride her in it before the show and everything but what do you think??
I ride her in a brass loose ring, double jointed snaffle. Usually.
What do you all think?? Am I a horrible person :? for wanting the 'look' of a double bridle in shows?? (Oh and let me just add... of course i'd be riding off the 'snaffle' rein and just holding the curb rein).
thanks for reading.