Discussion Starter
•
#1
•
Took Gucci and Dad up for their lesson today. Ended up hopping on the Gucc because he was a little bit hot... as far as quiet 20yr old tb's go haha! His first lesson in with other horses so a bit of bouncing around is excusable.
Yep I know he's curled up, but he's only had a handfull of rides after 12 months spell, and I think he's been worked like that most of his life. He goes well for dad and dad's happy with him being a little curled under because he feels like he's got more control. If horse is happy and dad is happy and we're not doing any big comps that actually have judges that know what they're talking baout, why worry about fixing it
Don't mind me, I havent ridden for about 7 or 8 months now and have stacked on the weight, so yes, I look a bit stupid up there. Hoping it'll come back soon it's driving me crazy looking like that!!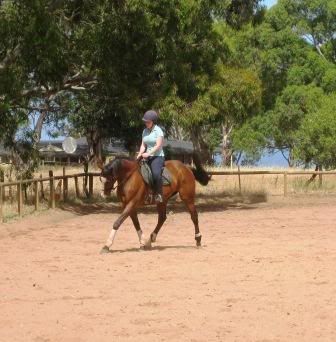 Then there's Jack. My coaches rising 5 hannoverian gelding by Whisper 1V. He was broken at 3, then 2 months after breaking he had a freak paddock accident and was out of work for almost a year. He's only been back in for a couple of months.
Usually he works better than this, and these photo's do him no justice as he is just absolutely superb! He was dropping off the contact and not wanting to be through today, so I'll hopefully get some better photo's when he's back to his usual self. He is already doing leg yield, shoulder in, travers, walk pirouettes etc. Little smarty pants he is!