Discussion Starter
·
#1
·
The rescue ranche's trainer, Carol Grubb, has taken in Gulliver and Kachina for the next month because she is training them for the big fundraiser in March where they will be demonstrating what PMU and abused horse can learn and that they are not useless animals.
So the ranch held a party for them to get them used to being around crowds and random objects like; umbrellas, pom poms, etc. It was a lot of fun!!!
First I'll introduce Kachina.
Here is her story:
Someone called the Sheriff's Department and reported a man driving a pickup with a horse chained to the back bumper.
"The reporting party was concerned that the owner of the horse was going to kill the horse," White said in the release.
A sheriff's corporal was sent to where the horse and truck were spotted, on East Javelina Drive in Florence.
The corporal followed truck tracks along the dirt road and found impressions in the dirt from the horse being dragged.
Continuing down the road, White said, the corporal spotted the horse on its side being dragged, White said.
The truck stopped and a man got out, followed by his 13-year-old daughter, who started "kicking the horse in the head, yelling at the horse to get up," White said.
The man got a plastic pipe from the rear of the truck and began beating the horse with it while also yelling for the animal to get up.
The corporal told the pair to stop and they complied, he had to pull his gun out to make them stop, White said.
When the lawman looked at the horse, he saw it was bleeding from the nose and had "road rash" on its rear legs and numerous cuts and scrapes from being hit with the pipe.
The corporal also noticed a vehicle tow strap around the horse's neck was embedded in the animal's flesh
, and removed the strap.
White said the man "told the officer that the horse would not obey and he needed to get the horse to another location."
I'll post more pics later of her, but here is mister Gulliver.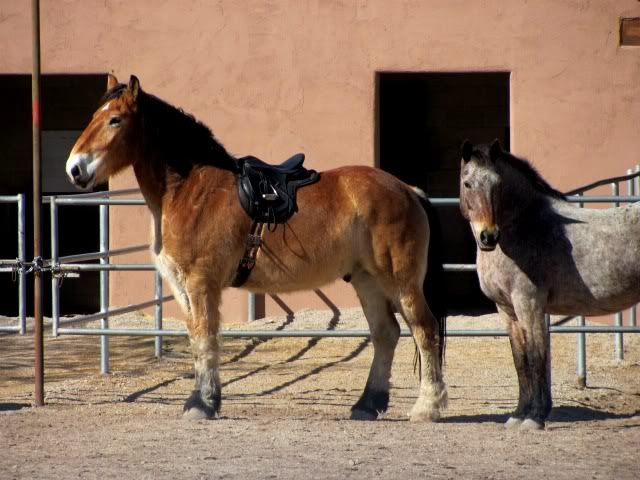 Gulliver and Carol



Warm-up

Tarp Thing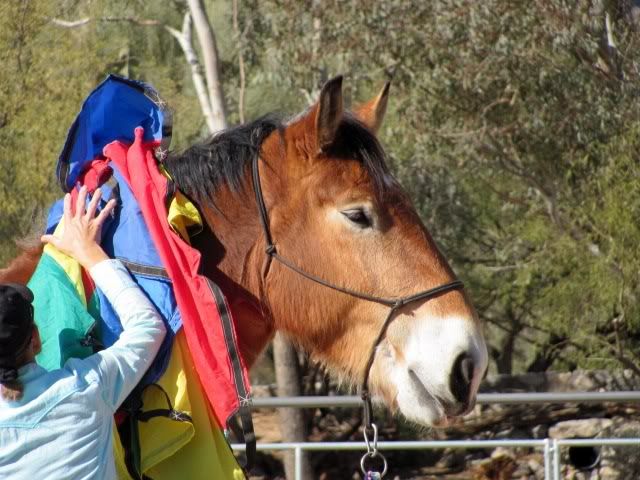 Cont. Please