Discussion Starter
·
#1
·
I would like some input. My OTTB gelding is 14. He's had known stifle issues for the past four years I've owned him. He's on daily Equioxx, and seems somewhat stable physically, not sound for galloping or heavy work but he goes on easy trail rides and seems fine.
Seeing photos of other horses on the forum, I have considered he might have DSLD and that is the cause of his stifle issues. Would you have the vet check him for it, or would you wait to see more signs of lameness or deterioration? Sometimes I think if he had DSLD I would be seeing more physical changes than I've seen so far.
He seems to be genetically very similar to his sire and grandsire. Here is my horse:
These two photos are from when I first got him, and two years later. Hopefully you can see his hind end angulation.
Here he is recently: He's very straight in the hind, but I'm not sure that he has really changed in four years. His pasterns don't seem like they have dropped either. Do you think this is just his conformation and I would be seeing more changes if he had DSLD? I don't feel lumpiness or heat over his leg tendons.
For comparison, here is his grandsire Mr. Prospector, known for soundness problems.
As you may know, this post-legged horse was bred heavily in the TB industry. He was retired to stud at age 4 with a sesamoid fracture.
My horse's sire was E. Dubai. At least as post legged as Mr. Prospector. I think they put his leg back in the photos to make it look more angled. E. Dubai was entered in the Derby but did not start, and he ran in the Breeder's Cup classic and was 11th. I can't find information on whether he had soundness issues. He was also retired at age 4 to stud.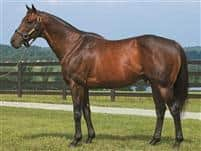 So should I assume my gelding is just post-legged from his genes, and not worry about DSLD? Or should I ask the vet to do ultrasound and etc to make sure?