Discussion Starter
·
#1
·
I got him from a couple I know; the wife had told me he didn't have a tattoo, but when the husband dropped him off today, he said he did - and sure enough....
The problem is I haven't been able to read all the numbers yet. He's not particularly pleased with me lifting his upper lip long enough for me to figure out what the numbers are. They are really hard for me to make out. There is definitely a 4 a 0 and a 5 but I'll have to try again later to figure out the rest.
Gus (or Super Sonic as my four year old wants to call him :lol
was given to us (I bought him for a buck :wink
, and the more I learn about him, the more lax the previous owners seem in his care.
His feet need to be done, his teeth need floating, his sheath needs cleaning, he hasn't been dewormed in over 6 months, he needs shots, and they think he came to them last August with the case of rainrot still on his back (assuming they are even right about it being rainrot), he has some little cuts on his legs, plus his mane and tail look like they may have not been brushed since they got him.
He did have lots of fun kicking up his heels once he got into his living space (he's been stalled for several months now :?, so he probably had lots of pent up energy).
Bonus points for making it through my rant....Now the reward - Pictures of my new boy
.
Getting up after a good role
.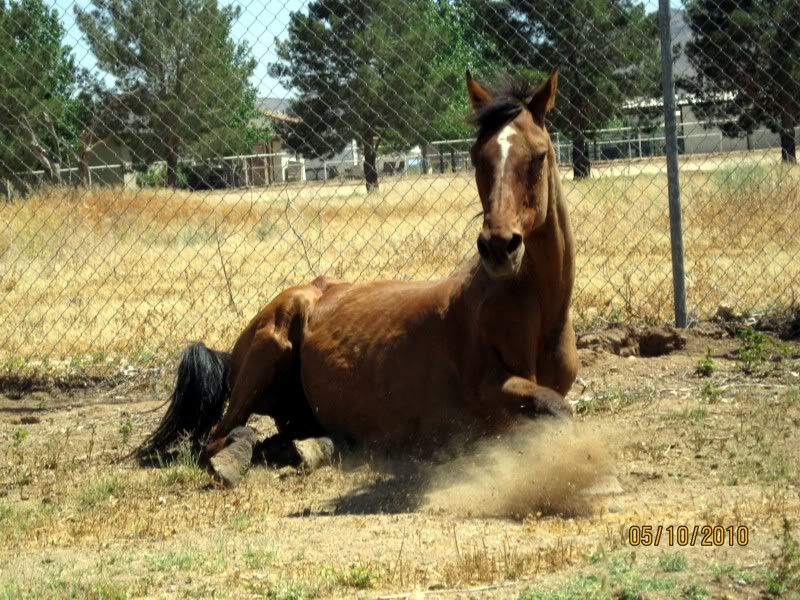 Making the rounds - I hope he cuts down on the pacing once he settles in or he's going to be harder to get weight back on than I thought.