Discussion Starter
·
#1
·
Today during work, i was cleaning stalls when the neighbor ran over and asked for my help. I was thinking that she needed help catching a horse. Well the people who live behind my barn also have horses, the fence diving our pastures from theirs is a tinsel wire fence that is electrified. They have an elderly morgan mare that is nasty when she gets in heat. In our pasture that is separated there is a mule who was teasing her threw the fence. Well, she tried to kick him threw the fence...this was the end result.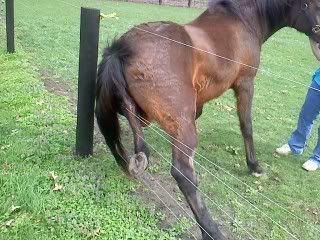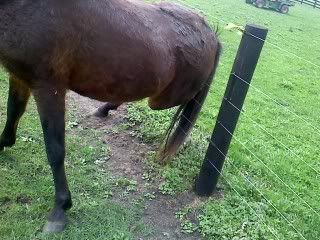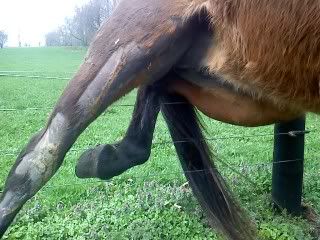 ​
As you can see she was leaning her entire weight on the wires, at one point her other back leg was off the ground completely. As you can see, her other back leg is pretty bad aswell. She that leg threw the fence just last sunday! We also came to find out she did it last year too. So apparently this is a problem for her. When we got down to her she was dripping with sweat, we figured she had to of been there for a while. She was shaking and about to lay down. She would not put weight on her other leg, if she would of we probably could have gotten her out alot easier. Eventually we got the owner down there he loosened up the fence wires. Now i think he should have cut them but he refused. She sat down, as we tried to get the wires out from around her leg she shot up and started bucking and freaking out. all the while the owner is trying to cut the wire (FINALLY!) once he did the damage was already done. WARNING VERY GRAPHIC
Im sure if he would have cut them at first alot of that could have been saved from happening. Her rump was also all kinds of sliced up considering she was practically sitting on the fence. As we were walking her to the barn the owner looked at me and said "Iv had tinsel wire for 20 years and this has never happened" All it takes it one time,
I know lots of you have wire fencing, i do too. But im not so sure about it anymore, what are you thoughts?