Discussion Starter
•
#1
•
I've always been into Hiking, camping, hunting and outdoor stuff. This year I took on a new challenge. It's called the Trailblaze challenge. It's a 28.3 mile hike on the Georgia, south Carolina line. It's through Make a wish foundation and required me to collect donations. I'm still working on getting to my 2500 bucks of donations. I've been working on this challenge since February. I've been hiking and running. At work we will go climb stairs in the highrises and I'm up to climbing 100-125 flights of stairs. In the process I lost 32 ponds which is fantastic. Well, all the training paid off. Last weekend was go time. I stepped off on the trail at 0530 on may 20th. I told my wife I would probably be finishing around 5pm so she and the girls could meet me. I miss judged my time a tad. I ended up finally getting cell service with 4.6 miles left in the hike so I gave her a call that I was going to finish sooner than I planned. I ended up crossing the finish line at 4 oclock. While the training paid off I'm am not going to say it was easy. At the 20 mile mark or so I was feeling it pretty good. I ended up at the 3rd check point needing to get my feet taped up a bit to prevent blisters and my right knee needed some tape for a bit of extra support but after that I was good to finish it out strong. I had ever intention of taking pictures but that kind of went by the wayside into the hike and I was more concerned with making time than pictures. I have a facebook page for make a wish that has a bunch of pictures on it that they took but I'm not sue that is allowed to post. If someone could let me know what the rules are on that I'd much appreciate it. I do have one picture of me and my girls at the finish line when they met me after 28.3 miles of walking in the woods.
I also have a screen shot from my I phone of my I health app that kind of breaks down my day into numbers.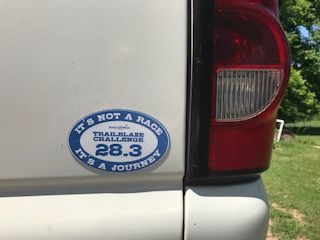 All in all it was a great weekend with my family. Then I went for loooong walk in the woods for a great cause of helping kids. Now I'm trying to figure out what m next challenge is going to be. I'm thinking this may be it next June. I don't have enough time to get ready for this one in a week and a half.
| Special Operations Adventure Race