Discussion Starter
·
#1
·
So I've caught the trick training bug, mostly because it really gives you another way to bond with your horse on the ground and get them listening to you which is what I like. I chose Zierra for this trick because I've owned her since she was born, I know her inside out and I know how her mind works. I don't trust Jynx yet with this sort of trick, she's better with the docile and submissive tricks. It's also helped improve my relationship with Zierra, who's been sort of back burnered due to her leg injury (which is now RE-INJURED, grrrrrrr, she's in solitary confinement after tearing a chunk out of her leg this weekend).

DISCLAIMER - I do NOT advocate anyone training their horse to rear. This is a controlled and complex trick that DOES require a certain knowledge and education about equine behavior, response and reaction. I am doing this because it is something fun for us to do to keep her mind busy and to also TEST our bond and my training on her. Zierra is a forever horse, she will never have another home, of this I can be sure, and irregardless, I do not have anymore fear that this will lead to "unasked" rearing then feeding her a cookie would lead to "unasked" biting.

On that note, Zierra is also a very angry mare who likes to think she's scarier then she is. Anyone who knows her will testify to the fact that she believes pinning her ears makes her dominant and the minute someone challanges her, she runs away scared. The reason why she is pinning her ears in these pictures is because she knows I have carrots and hopes she is asserting that I must give her these carrots. At no point have I, or will I ever, be afraid of her biting or acting aggressive. It's just who she is.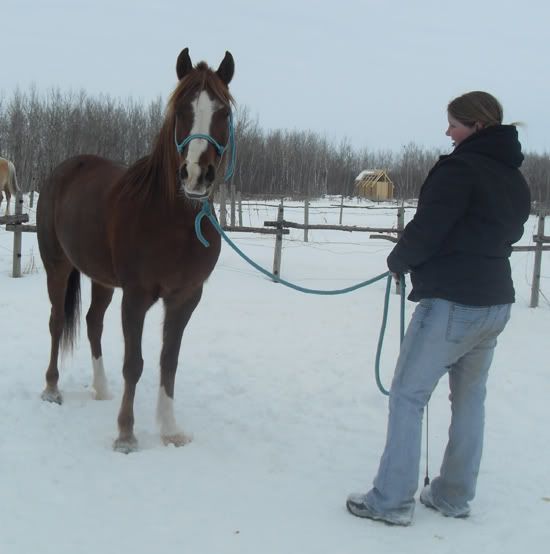 Attention please!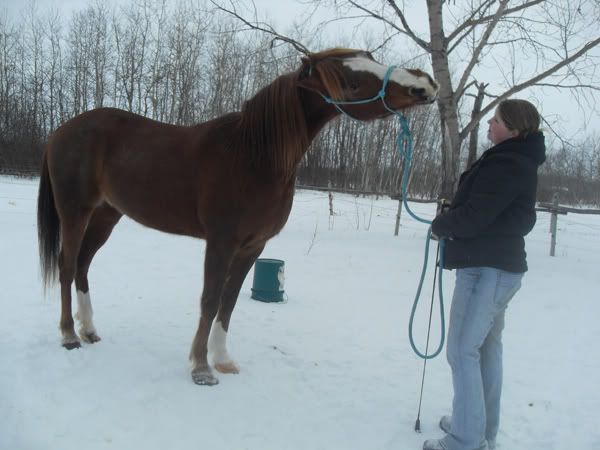 She is very scary, no?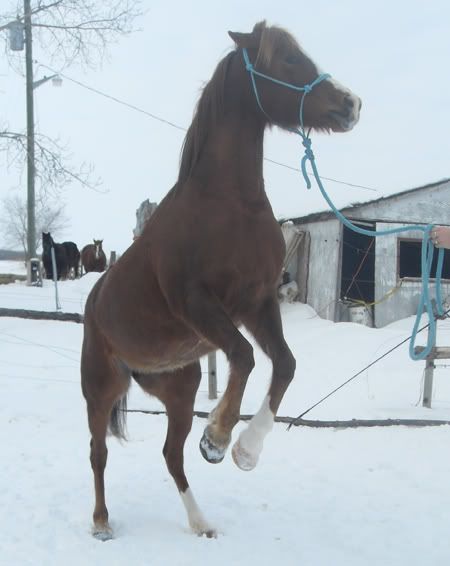 Atta girl!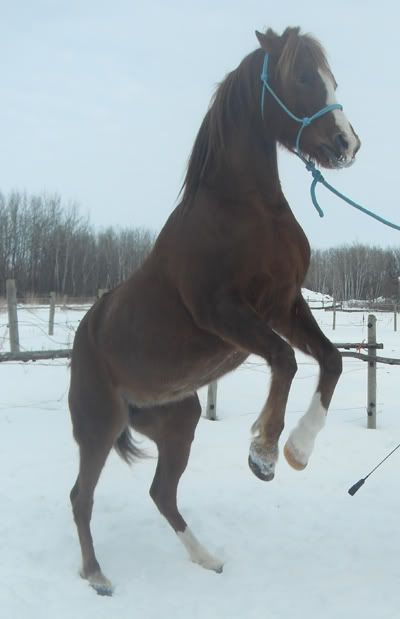 Very controlled, loving it!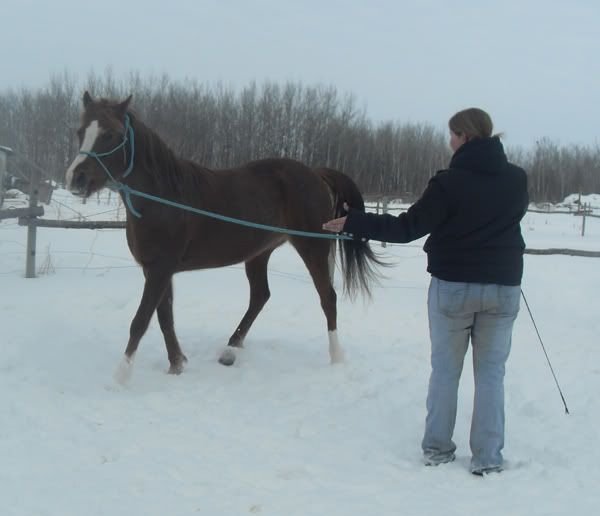 A quick lunge around, as part of our sessions to keep her alert, focused on me and not allowing her to rear before her cue.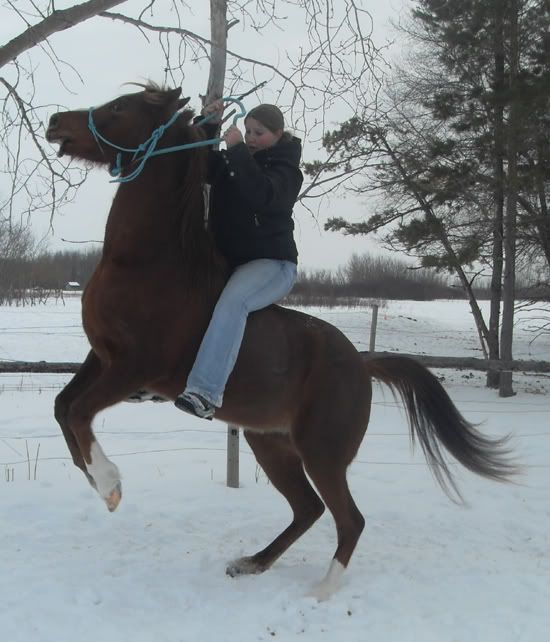 Mounted!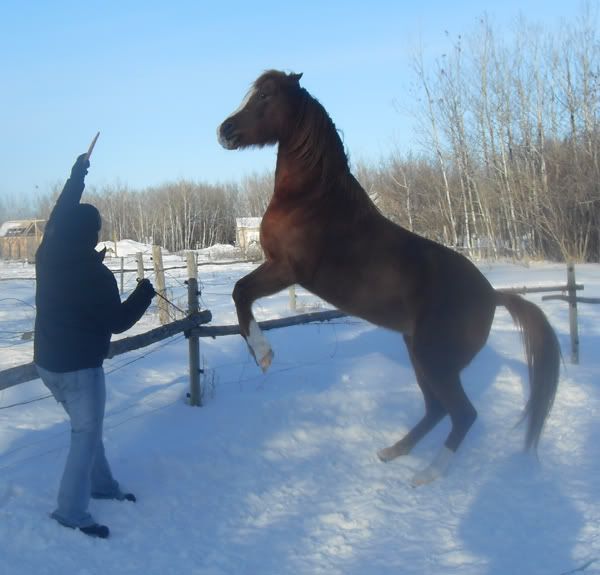 No halter, booya!



She believes she is above moving for her carrots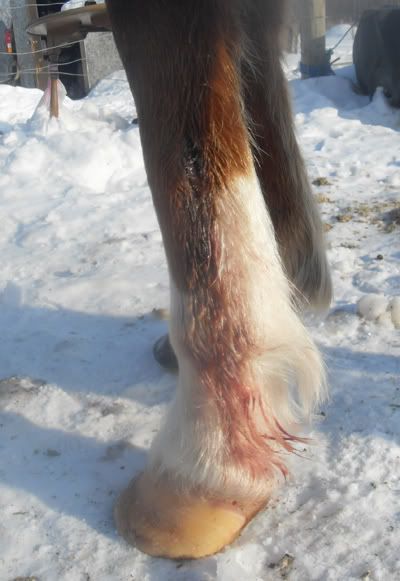 Her yucky injury :-( No tricks OR riding for awhile!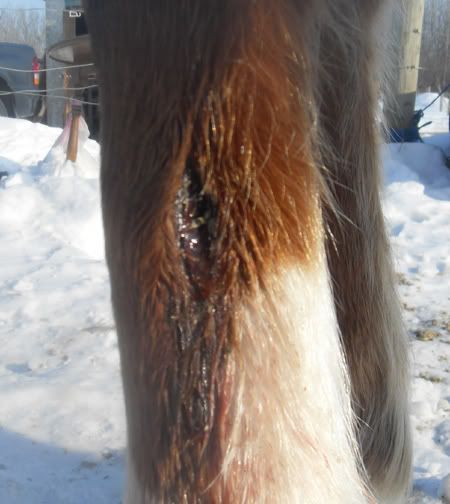 Iz goopy...yeck.