Discussion Starter
·
#1
·
Since Cinder can't be ridden, Moki's really gotten me into some of the trick training she's doing with Jynx and I've started to work with Cinder on a few of our own! She's already very good at rearing on command with me on her, I want to transfer that cue to on the ground...took 3 sessions and at least 14 carrots, but I think she's caught on! All I have to do is lift the lead rope and say "UP" really loud and she does a beautiful, controlled rear. I'm very impressed with how fast she took to the new cue, although to start training from the ground, I had to throw my arm over her back and tap the opposite side to mimic what my legs would've been doing! From on her, I'd give a slight tug UP on the halter, light squeeze with both legs, and say "UP" the same as I am now. Only problem was that once she'd reared a time or two in any given session, she'd throw in a buck for good luck! LOL! Anyway, here are some pics from our last couple training sessions.
Cinder and I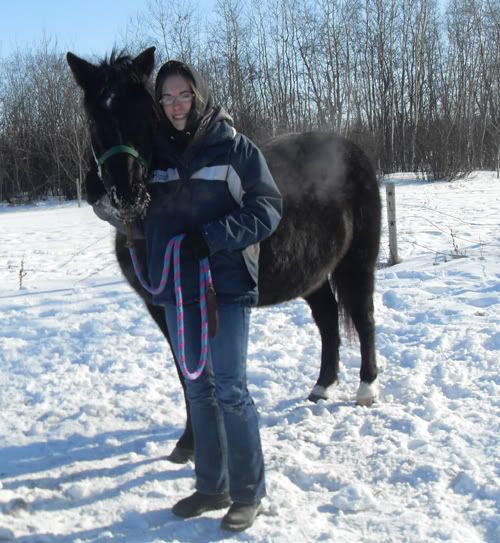 2nd session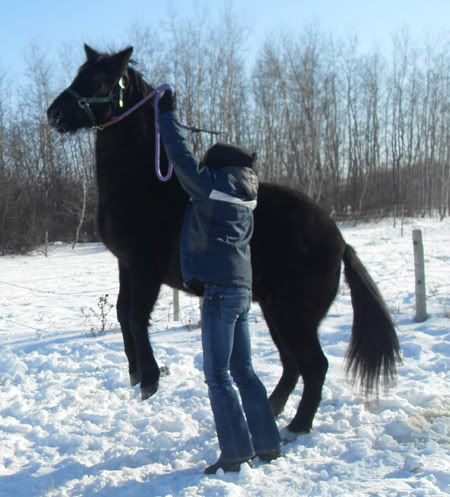 She is ALL about the carrots LOL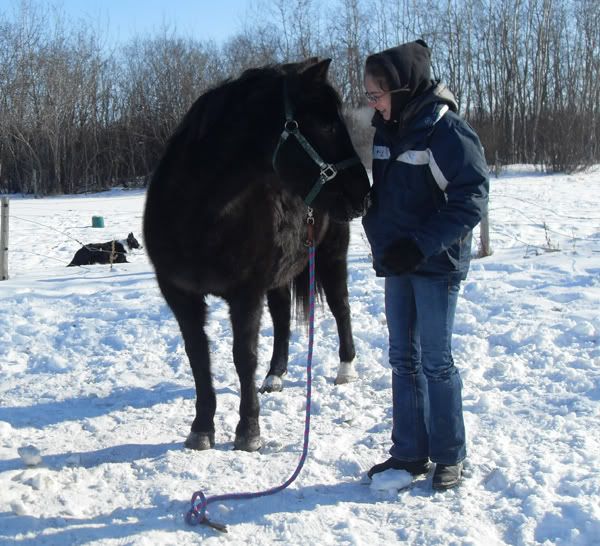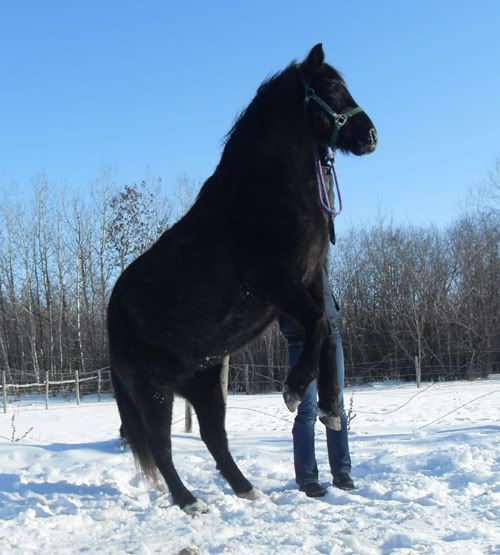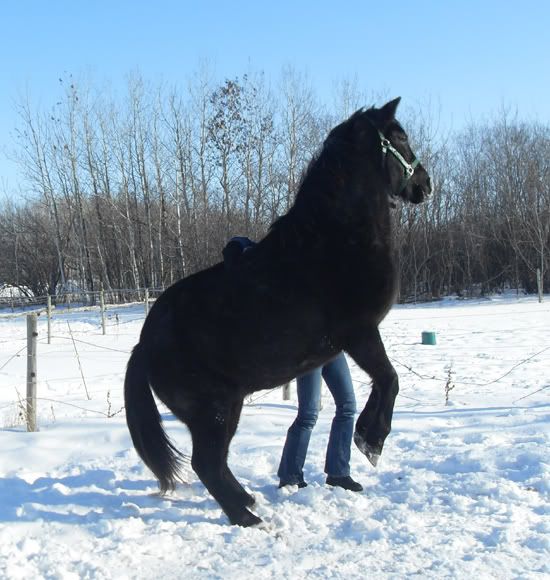 Today she was a BRAT and tried to play "come get me" in the pasture...so you bet we did join up in an 8 acre field...took nearly half an hour but I didn't let up and by the end of it, she was practically BEGGING me to catch her. Every now and again she tries testing to see if I'll give up and choose to work with someone else...and each time I stick it out, we work it out and she's good again for another 6 months until it's testing time again. Anyway, by the time I brought her in she was a bit wet and warm so I threw a cooling blanket on her and hand walked her down the road to cool her out. Once she was cooled out we worked on a bit more rearing...she's getting ALOT better! It's a slow, controlled up, hold, and down. Amazing to see...but I got a short video, of course not her BEST rear, but shows how willing she is to learn!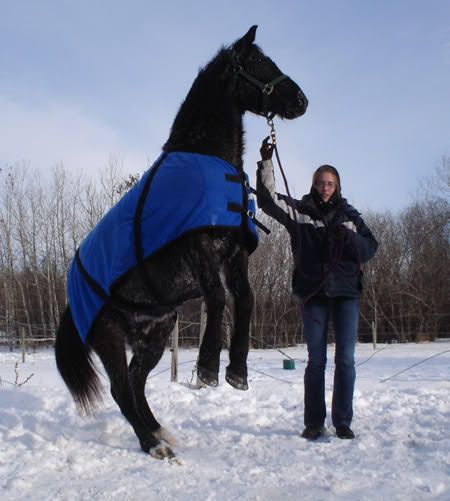 Cinder got so porky she doesn't fit in the cool out sheet anymore! Her belly sticks out...LOL didn't do that last summer!!!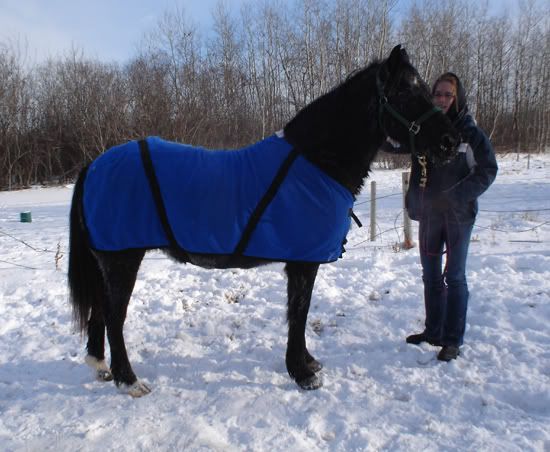 FAVORITE pic so far...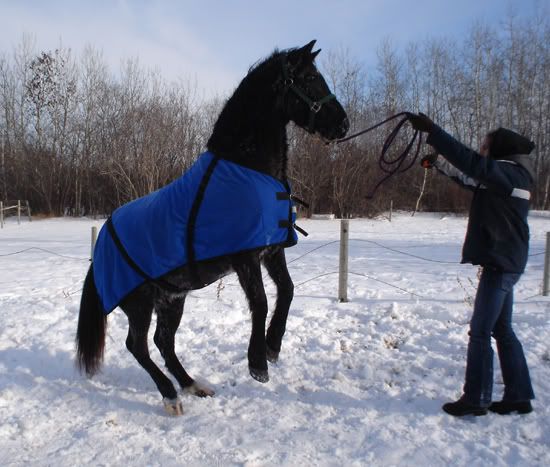 And the video I promised...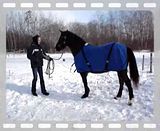 And this is what she has down pat now...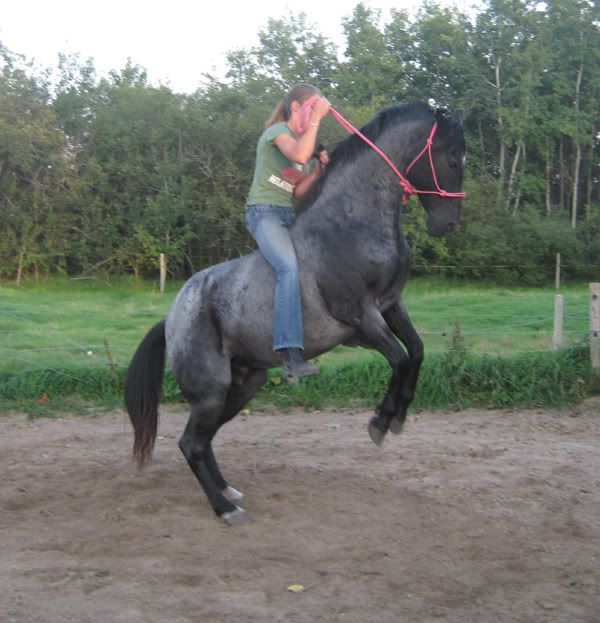 It's a work in progress...I'd love to teach her to bow and lay down like Moki's doing with Jynx, but I think the fused hip will interfere with that...I'll see how willing she is to stretch into a bow and take it from there. I'd like to also teach Cinder to "smile" by lifting her upper lip (I taught my mom's QH/Arab mare to do this) as well as see if I can teach the spanish walk but that one I've never done...any advise or ideas are welcome!!!