Discussion Starter
•
#1
•
My vet just left me a message while I was in the barn. She says the blood tests came back in and everything is fine except her ecg level is off. So she wants to come back out and do an ultrasound to see what the problem is.
I'm not sure when it will be but I'm so confused. I just cut Annalie's hay down to a flake a day and have been bringing her in everyday so she doesn't have as much turnout. I've also been riding her for about an hour 4 times a week and 20 minute lunging when I don't ride. She is NOT lossing weight. In fact she is getting bigger and her belly is dropping. She still has not come into heat. I'm so worried about her foundering that I feel like taking her off hay period and limiting her turnout. Even though I'm not even giving her as much as her previous owner did who also had her on turnout and had a round bale out for her horses most of the time.
Luckily neither of the girls have had problems due to getting into the grain room.
Here are some pics, some from previous posts.
This pic is from yesterday.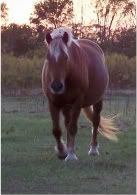 These pics are from a couple weeks ago