Discussion Starter
•
#1
•
Hello. There are a few complications with this case that make it sensitive.
There is a horse in our pasture. She's roughly ten or so. We (I) recently discovered that she's a halter horse. I don't have any experience with halter horses but it would appear, based on my limited research, that they are built to be very stocky/meaty.
Well, the mare in our pasture is essentially falling apart. I think her front feet are pigeon-toed but she waddles with them when she walks. It has been a struggle to keep her sound.
When the farrier was out she could hardly support herself on three legs while he did her feet.
She's so sore it is actually painful to watch her move.
We've been giving her bute to help with the pain and that's limbered her up a bit but long term bute wouldn't be good.
I hear she's built weird too.
The vet and the farrier have told us that the best thing to do would be to put her down. The farrier wasn't as polite as the vet and he told us to send her to the meat auction or put her in my dad's load off at his slaughterhouse.
Only the thing is that she's NOT our horse. She belongs to the family down the road. Ever since the vet ruled she could not be ridden until Spring (this was September) they have not come to visit her. The father feeds at night, but the girl whose horse she is hasn't come to see her.
They're trying to sell her but anyone who knows anything about horses wouldn't buy her and those who don't know about horses have always brought their trainer out or the trainer's vet or both.
So what do we do?
Here's what our thoughts are right now.
- The horse is not ours.
- The horse IS on our property
- We have been paying the vet bills for the horse ever since September
- We have paid for a chiropractor to come out and see her
- We don't want to keep paying for a horse that does not belong to us (they're supposed to pay us back for the bills)
- The horse is in obvious pain
- The bute is eventually going to stop working (she'll become immune)
We mentioned what the vet/farrier said to the owners of this horse and they said they didn't think they could knowingly send this horse to slaughter or have my dad shoot her and they wouldn't be able to afford the vet bill to have the vet out to put her down.
So it would appear that we're in a pickle.
She's not ours so we can't really make any decisions for her.
Her owners are aware of the issues with her but are unwilling/unable to do anything about them.
What would you do in this situation?
It would be best for the animal to be put down (assuming the vet is correct) but her owners, understandably, don't want to do that.
She's the sorrel. Please excuse Sonny's presence in some of these pictures. He's her buddy.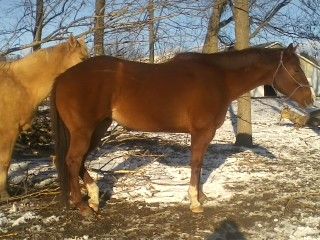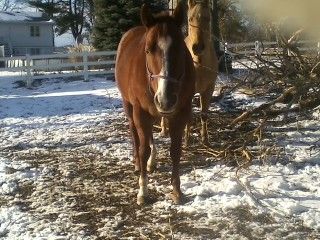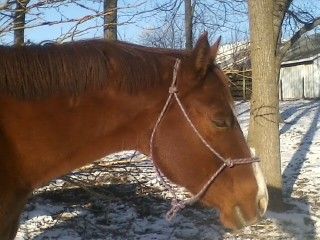 I know she's not all set up but there're just a few pictures of her. Do you see anything physically wrong with her? Conformation-wise? Medically?
It's how she always stands. She literally doesn't move much at all when she's in the pasture.