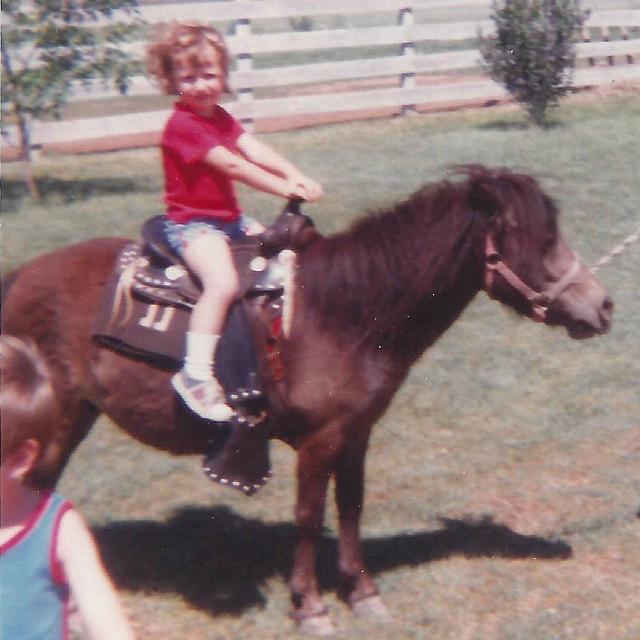 Probably my first horse ride ever, circa late '70s.
​
"To understand just one life you have to swallow the world..."
Salman Rushdie
It seems a little difficult to explain where I'm at in my horse life.
For sure I've found a horse life to be a dynamic thing, shifting and changing in ways a person may not expect.
First I should explain that whatever may change about me, a constant is that I need to have horses in my life. I'm human, female, and just as deep as both of those things I'm a horse person. In the times of my life where I could not have my own horses, I still thought about them, read about them, obsessed about them. Throughout the long years of childhood and as a teen, when my mother remained convinced I would outgrow this phase, my thoughts revolved around learning, preparing, and planning for when I would own a horse. Any chance I had to meet a horse, touch a horse, ride a horse, and I was there.
When I was in college, they asked me why I chose my career as a nurse. Others around me said they'd always dreamed of helping people or been interested in health care. I truthfully said I wanted to have a career that would help me have a good income so I could always have horses.
Although I did not own a horse until my early twenties, my obsession with horses meant that before I bought a horse I had ridden many horses, taken different types of lessons, studied many different trainers, knew a lot about various types of tack and riding styles, horse breeds, and how to assess horses for soundness and conformation.
As always with horses, and something I learned long before I owned a horse, is that even if you study horses your entire life, you can only know a fraction of what there is to know.
Over the years I've found horse people to be opinionated, stubborn, emotional, dramatic, and helpful, tough, caring, loyal. Most of them are loyal to their horses first, and that's not a bad thing. It's hard sometimes to call them "my people," yet they are. They're the only ones who can understand the deep-seated need "we people" have to talk about horses. Co-workers' eyes glaze over, spouses try to care but get bored, family members have heard it for far too many years. Strangers won't stick around long enough. Even when horse people get frustrating, they're still good to have around to listen to the stories.
I've had the chance my horse life to study some different disciplines and different theories whole-heartedly. I've had the opportunity to be disillusioned by the difference between dreams and reality, and to learn again and again that horses are amazing animals, just animals, but animals worth spending years and dollars and dreams on. Horses have been teaching me about myself, about humanity, about beauty, and about life. There's more to learn.
Where I've landed is somewhere far away from those that use horses for profit and ego and their own goals. It's also some distance from those that use horses to fulfill purely emotional needs, or those that believe horses sense our purposes and bond with us with some form of blind parent/child trust. I've learned that absolutes such as never, or always do not apply to horses. No horse will "always." No horse will "never." In the right situation, any horse will, and can hurt you. I've learned that you can't take anything personal with an animal, and to stay far away from anthropomorphizing. The more I understand that horses are individuals with their own, strong motivations, the more I appreciate them.
These philosophies help explain why I have the two horses I own, and may give insight into what I write about them. In the next post I'll introduce my horses.